Ermitaño Silver Project
Overview
The Ermitaño Project is a gold/silver mineral exploration project located in the Sonora State, Mexico. Ermitaño is located four kilometres southeast of the Santa Elena Silver/Gold Mine, a silver and gold producing complex operated by First Majestic.
Location
Ermitaño is approximately 145 kilometres northeast of Hermosillo and contiguous with Santa Elena Mine near the intersection of 29° 59´ 29.25" north latitude and 110° 05´24.95" west longitude and 12km west of Banamichi.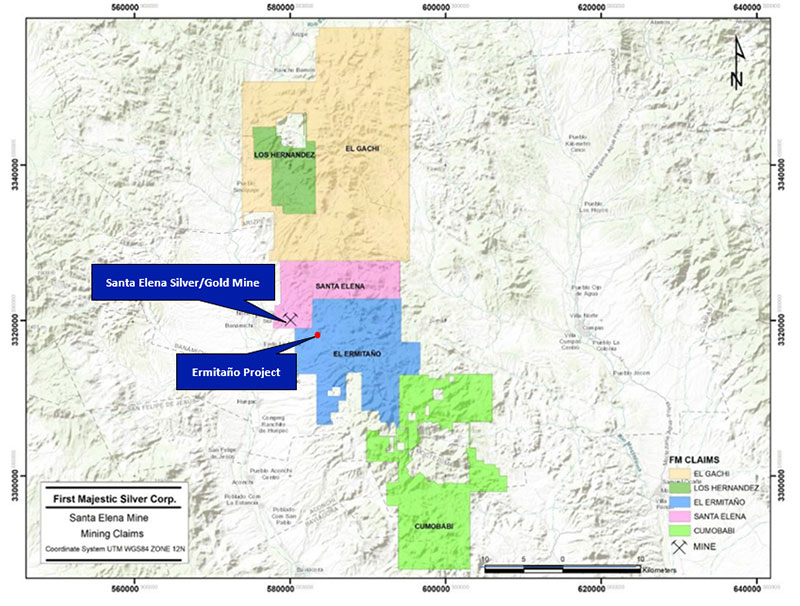 Following the discovery in late 2016, the company released a maiden Inferred Mineral Resource in early 2018 of 40.8 million silver equivalent ounces.
Mineral Resources

Mineral Resources have been classified in accordance with the CIM Definition Standards on Mineral Resources and Mineral Reserves, whose definitions are incorporated by reference into NI 43-101.
Metal prices considered for Mineral Resource estimates were $20.00/oz Ag and $1,450/oz Au
The Mineral Resources information provided above is based on internal estimates prepared as of December 31, 2017. The information provided was reviewed and validated by Jesus M. Velador Beltran, MMSA, QP Geology for First Majestic, who has the appropriate relevant qualifications, and experience in geology and resource estimation.
Local Geology & Mineralization
The Ermitaño West area contains a network of east–west trending low sulphidation epithermal veins and stockwork within an area of 1,200 metres long 600 metres wide. Vein textures suggest a shallower level of exposure in the low sulphidation epithermal environment compared to Santa Elena. Surface sampling includes 946 chip and channel samples which average 0.12 gpt Au and ranging up to 6.67 gpt Au
Ermitaño Vein System
Low sulphidation epithermal silver and gold mineralization is hosted in the steep dipping Ermitaño and Ermitaño Splay structures. The structures host green and white massive, banded, and bladed and stockwork quartz, calcite, and adularia. The veins are commonly brecciated and are associated with argillic alteration. Sulphide and iron oxide after sulphide and pyrolusite occur locally. The bulk of Inferred mineralization disclosed in 2018 is hosted in the Ermitaño Splay. Drilling of the Ermitaño Splay has delineated an east-west striking structure approximately 500 metres long, 400 metres down dip, with mineralized true thicknesses ranging from 0.9 to 30.0 metres, averaging 11.0 metres. Mineralization in the Splay remains open up-dip and down-dip to the west. The Ermitaño Splay separates from the Ermitaño structure which is delineated by drilling over an approximate 1,000 metre southwest strike length and 400 metre dip length. Mineralized true thickness range from 0.8 to 11.0 metres, averaging 4.0 metres.
Oblique view of Ermitaño and Ermitaño Splay