La Guitarra Silver Mine
Overview

La Guitarra is 100% owned and operated by First Majestic Silver Corp. as the project was acquired in 2012 as a result of the acquisition of Silvermex Resources.

The property consists of 39,714 hectares and is located within the Temascaltepec Mining District in Mexico. This district is a historically significant mining area as operations at La Guitarra first began in the early 15th century and continued through to the 19th century.

First Majestic completed an expansion program at La Guitarra in early 2013. The processing plant's capacity increased by 40% to 500 tpd (flotation) from 350 tpd. The expanded 500 tpd flotation mill consists of a new ball mill, new flotation cells, buildings and related infrastructure. In 2014, both the newly developed and high grade Jessica and El Coloso veins began providing mill feed.
Further planning and permitting is underway for an additional mill upgrade to 1,000 tpd.
Location
The La Guitarra Mine lies in the southeast end of the Mexican silver belt, within the Temascaltepec Mining District in the State of Mexico. The property is located approximately 130 km southwest from Mexico City. The total 100% owned land position covers 397 square kilometers (km) and over 15 km of strike length.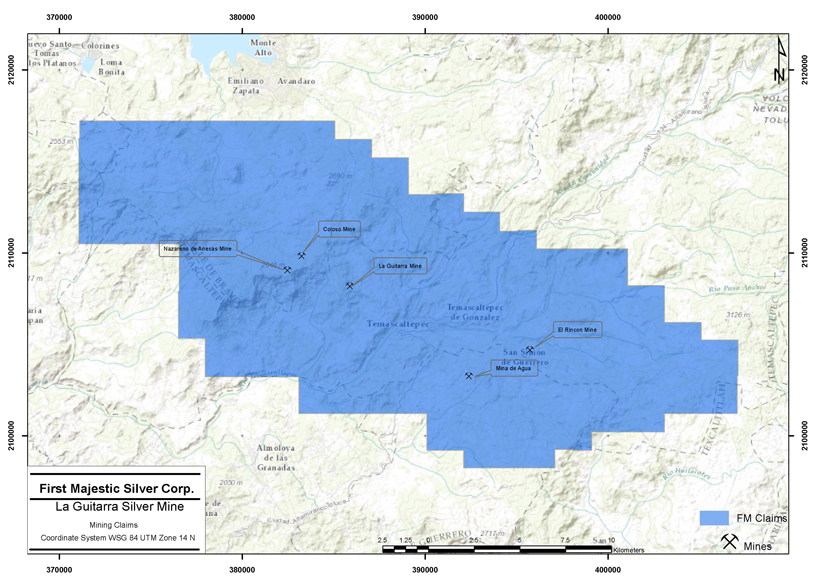 Mining & Milling Operations
The La Guitarra Mine presently consists of two underground operation centers and a flotation mill with a capacity of 500 tpd. Permitting and planning for a new 1,000 tpd cyanidation processing facility is underway. At this increased throughput, production is expected to reach 2 million ounces of silver doré per year.
Operating Highlights
| | | | |
| --- | --- | --- | --- |
| La Guitarra Production Results | 2016 | 2015 | 2014 |
| Ore Processed/Tonnes Milled | 155,696 | 174,003 | 186,881 |
| Average Silver Grade (g/tonne) | 228 | 201 | 127 |
| Recovery (%) | 81% | 84% | 84% |
| Total Silver Ounces Produced | 923,597 | 945,662 | 636,301 |
| Gold Ounces Produced | 8,181 | 6,907 | 6,329 |
| Total Production - Ounces Silver Equivalent | 1,523,688 | 1,457,728 | 1,056,078 |
| Underground Development (m) | 7,581 | 7,481 | 6,798 |
| Diamond Drilling (m) | 21,771 | 2,767 | 6,188 |
Local Geology, Mineralization & Ore Types
La Guitarra is situated in the southern part of the Sierra Madre Occidental. The region is characterized by mafic volcanics of the Trans-Mexican belt superimposing the intermediate to felsic Eocene volcanics. The mine also hosts rocks from Mesozoic schist and slates to Tertiary age volcanics and intrusives. The area was mineralized due to the late Miocene volcanic disruptions.
The core of the district is a mineralized belt over 15 km long and at least 4 km wide, containing hundreds of documented epithermal veins. Mineralization is hosted in these vein type ore bodies in the form of quartz-monzonite compositions. Ag-Au mineralization is the product of a large low-sulfidation hydrothermal system. Ore grade mineralization is structurally controlled, and varies in size from narrow high-grade veins to bulk tonnage zones ranging up to 70 metres in width.
Reserves & Resources
First Majestic Silver Corp. as of March 31, 2015 filed a new La Guitarra NI 43-101, for more detailed geological information, readers are encouraged to review the company's most recent
NI 43-101 Report.
The Reserves/Resources inventories are reported in NI 43-101 Technical Reports published periodically by the Company. The complete report can be viewed in the Reserves/Resources section or on SEDAR.